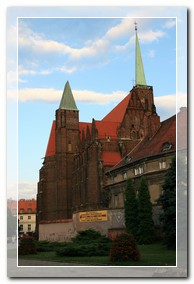 his church situated on the Church square on the Ostrow Tumski island makes up a special architectural curiosity — the only Gothic church in Poland, which has got two levels. It was sponsored by Henry the Just, a prince, whose remnants rested in the church in the year 1295, when the building of this church was finished and it remained there till 1945.
The legend says that the Prince swore to build a church on Ostrow under the call of saint Bartholomew, the patron of the ducal family in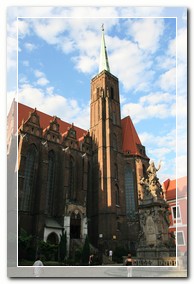 order to ask for health to all the crucially ill dukes. During the building a root was found in the ground of a bizarre shape, resembling of two figures sunken in prayer at the feet of a crucified Christ. The bishop recognized it as a miraculous sign and he demanded that the church should be build under the call of the saint Cross. Not wanting to break the promise, the duke ordered to build two churches one on top of the other — firstly saint Bartholomew, and above it, on the same plan, the church of the saint Cross. Supposedly with the saint Cross and saint Bartholomew another miraculous event is connected: a roofer had slipped on the roof construction and fell tens meters in the pit. His overcoat with the Divine decree however expanded as a parachute and the worker landed softly and safely on the earth.