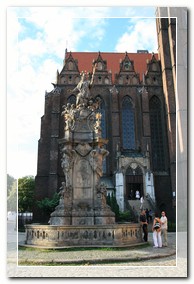 n the Church Square, in front of the Collegiate of the saint Cross and the saint Bartholomeus church one can admire the largest baroque monument in Wroclaw, the monument of John Nepomucen, founded in 1732. We can often se in the cities and in the villages of Lower Silesia baroque figures of this former holy (crossed out from the register of the holies in 1963), though not even one is so delicious and rich as the one on Ostrow Tumski. The statues were called "nepomucki", and after the year 1729 they lived a real boom. There were a few factors that build up the popularity of the ex-saint - beatification of the holy, the edict of the Austrian emperor (the Silesia was under the rules of Habsburgs then) establishing the day of 16 May as the holidays of John Nepomucen, and the activity of Jesuits priests among Catholics. Those last ones introduced his cult to weaken the strong Czech cult of John Hus, which was questioning the authority of the Church. What is more, according to a folk tradition Nepomucen was a holy who protected from a flood and drought, so his mediation could be useful to Ostrow Tumski, surrounded from all sides by the capricious river.
John Nepomucen was a confessor of Queen Zofia, the wife of the Czech king Waclaw.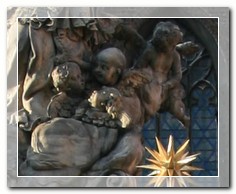 The Legend says that the king sentenced him to death for the refusal of betraying the secrets of his wife's confession. Waclaw ordered to drown Nepomucen by throwing him from the Charles Bridge in Prague to Weltawa. Supposedly in the place where the river took his body, five stars appeared and shined for many days, symbolizing five martyr virtues. Those five stars can be seen today around the holy's head. Obviously there are no proofs to support the legend. The probable cause of Nepomucen's death was the clash between Waclaw IV and the archbishop of Prague.
A curiosity of the Wroclaw's monument is a non typical, bald and not too good-looking figurine of one of the little angels at the feet of the holy, clearly differing from the rest of the charming winged babies. Supposedly the creator of the monument, J.J. Urbanski, wanted to commemorate his new-born son in this way.