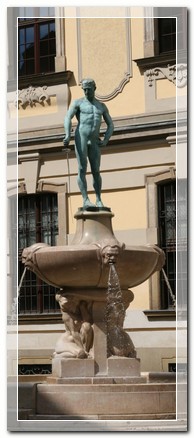 n the university square, in front of the Main Edifice of the university, on the top of a fountain, stands a nice sculpture of a naked young man with a sword, called the Fencer. It was designed by Hugo Lederem, a professor of the Academy of Fine Arts in Berlin. It was situated on the university square on 26th November 1904.
Supposedly the author introduced himself on the fountain and he did it as a warning for the students! The nude guy with the sword links to a not very pleasant adventure, which Lederem had while being a student in Wroclaw. After getting drunk with beer by local students, he had lost not only the whole property he owned in a game of cards, but also his clothes. Tricky students left him only the sword — the symbol of noble state and manful honor.
The warning as we can see did not work, because despite the intentions of the author the fencer wrote itself down for good in student frolics and jokes. It is a custom to dress it in various clothes on the first day of April (and if imagination arrives to someone, also in different days). Dressing itself is labor-consuming, because the sculpture makes a passive resistance – while with the cap or the scarf it goes quite easily, the panties and the dress should be ripped and sew up on the statue after that. Because the Fencer already had lost the sword dozens of times and it is monitored therefore, the municipal guard usually catches the jesters red-handed on the act and "rewards" with tickets. The same fate also happened to the students who were having a bath in the fountain and even a daredevil, who tried to swim with a canoe in it and by the way damaged it lightly.
It is also said that the Fencer will come to life, when a virgin will finish the university with a master's degree .