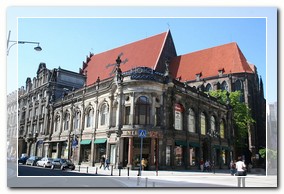 The Swidnicka street, which owes its name to the fact that on its whole one km lenght it runs towards Swidnica - a city situated 30km from Wroclaw - was built in the Middle Ages together with other smaller backstreets around the market and the first record of it comes from 1303. It was finished once with the fortificated Swidnicka Gate, which was demolished together with the majority of the defensive walls after the siege of Wroclaw by Napoleon's armies. It is an exquisite example of coexistence of styles, imposing on oneself in the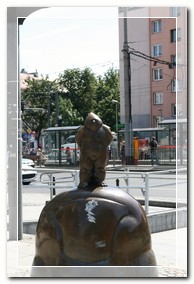 next periods of the history of the city. We will find here a great concrete "box of matches" — long, block of flats standing near the market, the postmodernist department store Solpol, kept in the tint of furious violet, but also a lot of priceless historical monuments, with which many legends, stories and anecdotes are connected. To the most interesting, though not the only ones worth looking at, belong:
The Gothic Church under the call of saint Stanislas, saint Dorothy and saint Wenceslas
The Gothic God's Body Church
The exquisite neoclassical Wroclaw's Opera from 1841.
The neobaroque hotel Monopoly from 1899.
The neoreneissance guardroom
The promenade near the municipal moat
In the 70's of the XX century the Swidnicka street was crossed by a transit rout, on the needs of which the antique tenements lying on the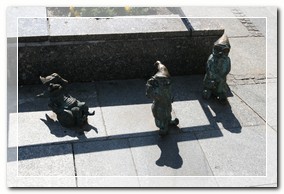 rout were demolished. An underground passage was made under it, because of very wide and low stairs called the stairs of odd steps. It constituted a place of political pronouncements of the Orange Alternative, opposition to the communism symbolized with an orange gnome, commemorated today with a dwarf monument on it's north side.
It is worth to turn from the Swidnicka street into an exquisite promenade over the municipal moat, which came into existence in place of demolished defensive walls.