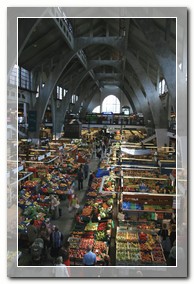 hen in years 1906–1908 began the construction of the Market-Hall, to which the stalls from the New Market and neighboring streets were supposed to be transferred, reinforced concrete was not universally used in the building industry yet. Only two years earlier in France and Switzerland two bridges were made of reinforced concrete for the first time, and the ceiling of Wroclaw's Market-Hall, supported on reinforced concrete parabolic arches makes up a kind of experiment: the first utilization in the world of reinforced concrete in a building on such a scale. Until now it belongs to the largest covered markets in the world.
The hall was built in a place of a XIV century Lebus bishops manor, rebuild in the first half of XVI century on an arsenal. As a souvenir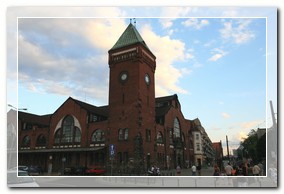 after the previous destination of this place the northern elevation of the Hall has got cannonballs made of stone, which are put into the wall. An almost identical market-hall, also designed by Richard Plüddemann, was made in the same time near the Kolejowa Street, however war destructions violated the construction of the building, and in 1973 it's total destruction was necessary.