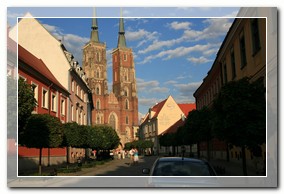 atedralna street leads us from the Tumski bridge through the Church square to the gates of the Wroclaw's Cathedral. We pass restored Renaissance tenements after both of it's sides, meanwhile under the number 11 there is the Sufragans Palace, at present the seat of the archbishop of Wroclaw's diocese. The former Wroclaw's Bishops Palace adheres to it, containing at present the Faculty of Papal Higher Clerical Seminar.
Cathedral street is probably one of the most beautiful backstreets in Wroclaw today — with a beautiful view on the cathedral, going after it's both sides lines of completely restored Renaissance tenements lighted up with the lights of street lamps. It was probably wandered, although probably not very often, by priest Bastiani, the son of a Venetian tailor, a well-known wrangler, libertine, bisexual and... The canon of Wroclaw's cathedral. Why do we write about him? Because he was visited by a person who came to Wrocław after leaving in a hurry and in a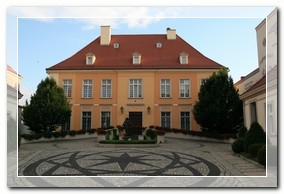 scandalous atmosphere Warsaw, a man named Giacomo Casanova, the most famous and (according to his own diaries) the largest seducer of eighteenth-century Europe. The priest lived "very comfortably" on the ground floor, and on the first floor he hosted a lady whose "children he loved very much" and whom most probably he begot. The stay, though short, because only three-days, abounded to swarm in spicy details. Casanova found at his new friend's place three things which he valued in the world most: a perfect companion, a rich library and an elegant cuisine. Bastiani, who owed his career to an intimate relation with the emperor of Prussia, Frederic the Great, did not hesitate to show Casanova the letters, which he received from the king. Famous Giacomo does not write although what was in them but the connection to them while writing about Bastiani's homosexual affairs speaks for itself... It did not also dispense without the amorous conquest in Wroclaw: while leaving to Dresden, Casanova took along with him a virtuous unmarried woman, beautiful, twenty-five year old tutoress named Maton. Unfortunately, the seducer was vilely used, and the magnificent Maton turned out to be not a virgin - she managed to strain his pouch in two weeks, rob him, betray with the count de Bellegarde and his five or six companions, and to infect with a shy disease additionally.